Cheese – the journey on the pallet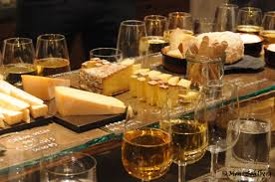 An exploration of the world of cheese in three tastings.

In a series of 3 tastings we will take you on a journey from where it all began and up to today's cheese and cheese manufacturing. We will cover the classics, acquaint us with todays methods and wild taste combinations, all laden with facts and stories.

The cheese we are introduced to, weather it's a new acquaintance or an old friend, are presented along with a beverage hand picked to marry the cheese on your pallet. And, obviously, we will also talk over the beverages.

The tasting are not depending on each other, so you can pick and choose what cheese experience you want or just attend all three of them. Why not bring a friend or present one of your kin with a gift certificate for this cheesy occasion? Should you, by the way, attend all three dates you will leave with a diploma from our Master of Cheese to adorn your kitchen wall.

Weather you are an expert or a rookie, these evenings are guaranteed to teach you something new and give your taste buds an unforgettable evening.

Check our calendar for dates or drop us an email or call us at +46 (0)70 850 55 99 and we will tailor fit an event especially for you.

PLEASE NOTE THAT ALL OF OUR TASTINGS ARE HELD IN SWEDISH, IF NOTHING ELSE IS SPECIFIED. IF YOU WANT IT IN ENGLISH YOU NEED TO GIVE US A HEADS UP IN ADVANCE, AND WE WILL DO OUR BEST TO PROVIDE ACCORDING TO YOUR WISHES.