Bourbon - whisky for real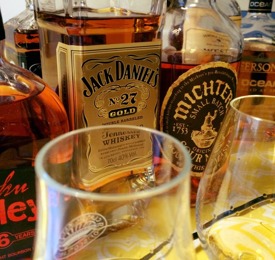 The vogue of whisky remains, but bourbon is runner up. It's more reasonably priced that its malt counterpart, as tasty as rum and goes so well with sweets that Dean Martin must be rotating counter clockwise. To start with we taste five different kinds of bourbon you won't find at your ordinary Systembolag store. Then we wrap up the evening with a couple of classic bourbon cocktails.

This tasting includes bourbons like George Dickel, Jefferson's and Old Overholt.


Peek into our calendar for dates or drop us an email or call us at +46 (0)70 850 55 99 and we will tailor fit an event especially for you.

PLEASE NOTE THAT ALL OF OUR TASTINGS ARE HELD IN SWEDISH, IF NOTHING ELSE IS SPECIFIED. IF YOU WANT IT IN ENGLISH YOU NEED TO GIVE US A HEADS UP IN ADVANCE, AND WE WILL DO OUR BEST TO PROVIDE ACCORDING TO YOUR WISHES.