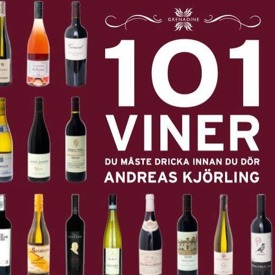 Come join us in a wine tasting based on award-winning Swedish author Andreas Kjörling's book 101 wines to drink before you die. We will cross five wines off the bucket list, and are taught how to smell, taste and understand how the wine combines with foods. After the tasting our bar opens, and if you wish, you can dig into our extensive selection of marvelous beverages.

Check our calendar for dates or drop us an email or call us at +46 (0)70 850 55 99 and we will tailor fit an event especially for you.

PLEASE NOTE THAT ALL OF OUR TASTINGS ARE HELD IN SWEDISH, IF NOTHING ELSE IS SPECIFIED. IF YOU WANT IT IN ENGLISH YOU NEED TO GIVE US A HEADS UP IN ADVANCE, AND WE WILL DO OUR BEST TO PROVIDE ACCORDING TO YOUR WISHES.